Sarah Beatrice Mary Lewis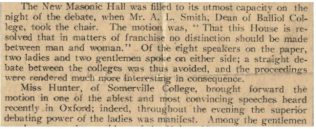 Sarah, nee Hunter, (known as Beatrice), studied at Somerville College, Oxford, where she was involved in the women's suffrage movement.  
After leaving Somerville, she worked as a teacher before moving to the Civil Service.  During WW1 she worked for the Women's Emergency Corps and was the Secretary of the Scottish Women's Hospitals for Foreign Service, founded in 1914 by the renowned Scottish gynaecologist and suffragist Dr Elsie Inglis (1864–1917).  The SWH ran hospitals in France and Serbia and supported refugees.  For this work, in April 1916 Beatrice was awarded The Order of the Misericorde by His Highness the Crown Prince of Serbia, in recognition of her services to the Serbian sick and wounded. 
In 1922 Beatrice joined Peter Jones as the Boot Buyer, and within a year she married Spedan.  She became a Director and then the first Deputy Chairman, a role she held until 1951.
Beatrice was instrumental in developing staff management and training within the Partnership and was a strong supporter of developments to support women in business.
She was very keen to  promote education and was a member of the Appointments Board of London and Oxford Universities, a governor of Andover Grammar School and an executive committee member of the Women's Employment Federation.
She and Spedan had three children, John, Jill and Edward, and she combined her professional and personal life whilst participating in a number of other voluntary roles until her death in 1953.