1953 Coronation Spithead Naval Review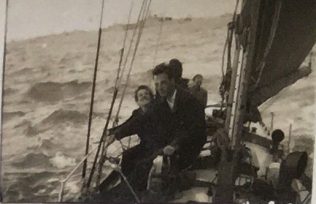 With the Coronation of King Charles III (6 May 2023) in our minds we have looked back to see what happened at the last Coronation in 1953 held on Monday 15 June
In the eastern Solent there were 325 vessels ranging from major and minor warships, merchant ships and also fishing vessels and yachts all representing the UK and 22 other countries from the Commonwealth and number of foreign countries including the USA and Russia. In all some 14 miles of ships for her Majesty and Prince Philip to review from the bridge of the Royal Yacht, HMS Surprise. 
Included in those vessels was our yacht, Ann Speed, although our then Commodore, Geoffrey Snagge brought his own yacht, Arvon.  Ann Speed was moored in the area just off Peel Bank to the east of Osborne Bay, as shown in the chart with a large arrow.
The fleet review continued with a fly past of 300 aircraft of the Fleet Air Arm which included Australian and Canadian squadrons.
Lastly, as a grand finale, was the firework display that started with a single rocket fired by the Queen roaring into the sky from HMS Vanguard. And, as though by magic, the whole of Spithead sprang to life, and the ships were outlined in electric lights followed by the main display which consisted mainly of rockets in the form of sprays from each ship. The final salvo of the display was by 2500 rockets that lit the night sky and surrounding beaches from where, it was estimated, over one million people had gathered to watch.