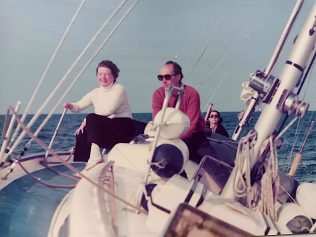 Here are some old photographs taken during the Chairman's Cruise 9-11 July 1976.
The yacht was Sabeema, the Partnership's 36 foot Bowman ketch, and the skipper was the then Commodore of the JLP Sailing Club, Denis Bayly.
The Chairman's Cruise, that year, was a 70 nautical mile round trip from Bursledon to Brownsea. The crew was; Peter Lewis (Chairman) and Mrs Lewis, Denis Bayly (Commodore) and Mrs Bayly, Sam Bourne, John Draper and myself.
I was privileged to be invited as I was training to be a Partnership skipper at that time.
The image 'Sailing' shows Peter Lewis chatting to Mrs Bailey with Mrs Lewis at the helm.
'Companionway' shows Sam Bourne (Bourne & Hollingsworth) with Mrs Lewis at the helm in the background.
'Thoughtful' shows the Chairman sitting against the main mast in a contemplative but rather uncomfortable manner.
'Brownsea' shows the Chairman at the helm with Brownsea Castle in the background.